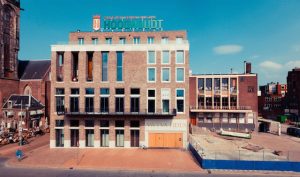 The construction of the prestigious project Vindicat on the Grote Markt in Groningen was commenced in October 2013. The new building covers a surface area of 4,000 m2 and the building has 5 floors. The client is the Municipality of Groningen and the project was carried out by construction company Jurriëns Jorritsma. The installation technology was provided by Aalbers Installation Technology.
A special feature of the project was that the entire building, including installations was designed in BIM 3D format. This provided many advantages during the construction process because problem areas could be pinpointed in 3D in advance.
According to the architect in charge, Ben van der Meer of DeZwarteHond, the design was an accurate interpretation of everything that Vindicat and the municipality of Groningen had asked for and required from the design.
Vindicat is the oldest student association in the Netherlands and the largest student association in Groningen. As part of the municipal plans for the redevelopment of the east side of the Grote Markt, Vindicat was moved northwards to the corner where the Tourist Information Office and the Friesland Bank used to be located.

They also decided to have a Stansz chute system installed for the efficient disposal of waste and a Stansz Waste Chute System was therefore installed. This decision was made so that the various floors could be kept free from waste bags and optimal use could be made of a central waste collection point in the basement.
The benefits for Vindicat include:
no more waste on the floors
central waste collection
clean environment in and around the building
more convenient waste processing